| | | | | | | |
| --- | --- | --- | --- | --- | --- | --- |
| Miles: | This week: | 0.00 | Month: | 0.00 | Year: | 0.00 |
| | |
| --- | --- |
| Mizuno Wave Elixer 5 - Green Miles: 58.00 | Hoka Miles: 172.00 |
Four on the treadmill, hated it, the rest outside. Trying to feel comfortable with 7:30 pace.
p.m. Three more miles with the dog after staring at a computer for eight hours helping broadcast general conference on the Internet. Morning session was interesting because they had audio configured wrong at the pulpit, no sound for first 20 minutes from speakers. Users kept refreshing their browsers over and over again slamming our servers. Fun times.
Knee a little sore...over-use pain. Guess I'll have to rest. Thats the way it goes.
Mizuno Wave Elixer 5 - Green Miles: 12.00
Comments(1)
Looking at the database of all-time 100-mile finishes, I've climbed up to 42nd in the world. If I keep my pace for a couple years more, it looks like I have a chance to be in the top 5. We'll see. They don't have one of my finishes recorded, I'll have to fix that.
Comments(3)
Treadmill. Couldn't resist the hills so cranked it up at times. Wish I could get into marathon pace speed shape again. It will take some time. Mountain races are done. My next two are flat as can be, so it is all about foot speed.
Mizuno Wave Elixer 5 - Green Miles: 8.00
Add Comment
Being lazy and sleeping instead of running.
Went over to the dark-side and finally joined that crowd and bought some Hokas to run Pony Express 100 in. My feet always get very sore from those hard dirt roads so these should help and they are as light as road shoes. Karl Meltzer told me they were ideal for his Pony Express Trail run, that he couldn't have done it without them. So, I'll give them a try. Very pricey but Karl's shoes last more than 500 miles. I'll test them out in the morning.
Comments(5)
Ran dirt roads and ridge trails.
The Hoka test went very well. They really feel like 4WD shoes. Usually I pick my way, trying to find the smoothest route in rough areas, but when there are just smaller rocks, no reason to do that at all in these shoes. Pretty amazing. So the next worry is, but that means you don't feel the trail as well with your feet. Will you twist ankles more? I don't think so because the stability of the shoe is great. I can still feel the trail, but I just don't feel the smaller rocks, I feel the bigger rocks that could cause me to twist. So I discount that worry.
Tripping? I think I may trip less. The toe kind of angles up. My problem is always catching the left toe while bringing it forward. The jury is still out on this one.
Blisters. Feels very good, didn't feel hot spots.
Wide enough? I have sesmoid problems, and need a wide shoe. These might put too much pressure on them, but I can probably make adjustments with the insole to get more room if needed.
Foot protection. Wow! I expect foot fatigue to really go down. They protected my problem tendon insertion point very well.
Toe Box. Plenty of room. I usually run in size 10. I got a 10 1/2 because I wanted more room in the toes. The heels slip a little but I solved that with some tape in the shoe behind the heel.
Shoe laces. Feels good, and you can change the tention fine.
Downhill running. I tested them out on some pretty rugged stuff in the dark. I can tell right away that they will help increase my confidence on the downhill. I felt very in control.
Speed on the flats. Yep, these shoes are light.
Hill climbing? I had no real issues. On the very steep stuff the shoes creased against my big toes but I expect that to go away as the shoes are broken in.
So, so far, thumbs up. If they hold up for 600 miles, they are worth the price.
Mud and water? From all that I hear, this is not a shoe to use during a muddy, wet race like Big Horn 100. They don't have the mud traction you need nor do they dry out fast enough. I plan to only use them for dry stuff. They would have worked fine for Wasatch and Bear.
Comments(2)
Race:
Lake Mountain 50K (30.7 Miles) 04:59:20, Place overall: 1, Place in age division: 1

I wanted to test out my Hoka shoes on a a long run so I got up bright and early (2:00 a.m.) and ran all the way around Lake Mountain which is really close to 50K with 3,664 of climbing along the way. Not really a race, but a race against my course PR time. It is mostly 4WD/ATV roads with some 2WD dirt roads thrown in and a little bit of pavement. I have run this course eight times before, but this is the frist time that I did most of it in the dark. I turned off my light for the last half mile.

How did the Hokas do? My first thought is, Wow! I shattered my PR and course record by 30 minutes! Doing this all in the dark just adds to my amazement. I can't give all the credit to the Hokas because I was prety well-rested, with not much running since Bear 100 two weeks ago. Also, I used a Garmin 305 for the first time and it helped to push me.

But still, the shoes felt fast! Usually at night I have to very carefully keep my eye on the trail but with these babies I can keep my head up more and just run over the rocks. Minimalist critics say, "That is a shattered ankle ready to happen." I think they need to pipe down until they test drive these bad boys. I ran up and down some pretty technical stuff in the dark and not one time was I even close to twisting my ankle. So, barefoot dudes, before you poo-pah these, go give them a whirl. Yes, I didn't feel like some Native American out there touching Mother Earth, but I was speedy. In fact since I could look around more instead of staring at my feet, I could see more of nature around me.

I started out a little after 2:00 a.m. For this run, I started in Eagle Mountain where main street intersects with Lake Mountain Rd. That is a nice place to start because you don't have to drive on any dirt roads to get there. I put some aid station stuff at mile 8.5 (Israel Canyon Rd) and mile 17.5 (Redwood Road). I brought with me only one handheld water bottle and some gels in my pocket. The temperature was great, with the low at 41 degrees.

To help push me, I set the Garmin virtual trainer to my PR time for the course of 5:29. I would simply use that to push me to try to stay ahead of that imaginary runner. By the time I reached the power lines at mile 5.6, I was already almost a mile ahead of my PR pace. My goal was to keep that buffer clear to Enoch Pass along some pretty technical stuff and lots of ups and down. The lights across Utah Lake were spectacular.

I reached Enoch Pass (mile 12.5), the high point of the course at 2:04, just under a mile ahead of the PR pace. I knew the next 5 miles downhill were critical to run fast. I pushed hard to approach 7-minute miles. I reached Redwood Road (mile 17.6) at 2:48. I stopped for about seven minutes to drink and eat from the stuff I had dropped off there. I needed to drink a bunch because there would be no more aid station stops. I was 1.8 miles ahead of my PR pace.

The next mile or so was pavement running on remote Redwood Road, miles away from anything. A couple cars passed by, I'm sure wondering about this crazy guy with a green light running in the middle of nowhere at 5:00 a.m.

I made the turn at the far south end of the mountain to make the 700-foot climb up to Solder Pass. I knew this would make or break my race. I just had to push this uphill section hard, so I ran every step and at the top I was still 1.75 miles ahead of my PR pace. I could taste victory. I reached Soldier Pass (mile 21.5) at the 3:31 mark. It was now almost all downhill and flat. By the time I reached the bottom of Cedar Valley, I was 2 miles ahead of my PR pace.

The home stretch is almost totally flat dirt 6.5 mile road run to Eagle Mountain. To really smash my PR, I needed to run it all, no walking or shuffling. So I did it, not terribly fast, but I kept my pace most of the time under 10-minute miles. I hit the marathon distance at 4:15. Not bad for dirt, 3,600 climbs and in the dark.

By the time I reached the finish, I was more than 2.5 miles ahead of my PR pace. I hit the finish line in 4:59:20. Add about ten minutes for aid station stops. It is interesting to consider my best 50K time was a 4:59 split at Across the Years two years ago. I don't run very many 50Ks.

For Pony Express Trail 100 on Friday, I hope to reach the 50K mark at about 5:00, so this is a very good indicator that it will be possible. I felt great at the finish and could have gone on and on. As I reached my car, I caught up with a couple runners out for a morning run. I didn't talk to them, but it would have been funny to tell them I just finished a 5-hour 31-mile run around Lake Mountain.

The Hokas held up well. I'm glad I tested them because there are some hot spots that I now know about. The edges of the shoe are a little bit too high on my ankle and rub against the ankle bone, but I know how to deal with that.

Comments(12)
Tapering. Road and treadmill miles. Also doing heat training. Half hour in the hot tub, kicks working the hamstrings (they tend to get taper pains, so working them is good on race week). Weights and core work. Drove to and from SLC with the heat on. Brutal. Will reach 79 degrees on Friday during the race.
Trying to keep all the runners happy but not caving in to special requests. Race bags stuff, plenty of Hammer products.
Mizuno Wave Elixer 5 - Green Miles: 5.00
Comments(3)
More heat training. Here's my theory about heat training and it seems to match some theories among Badwater runners. You don't have to spend weeks getting your body used to the heat, it can be done in just days. Two weeks probably is ideal but one week can be plenty. Also, you lose it fast, doesn't store up. I think it is kind of like getting used to altitude. Takes a couple weeks. With a week of daily heat, I think it helps combat the nausea and effects of heat during a run. Today again did hot tub and then drove with the heat blasting in the car for about two hours total, both. Today it felt much easier than yesterday.
Getting your body used to dehydration is another matter. I think that takes a long time working your body through stress over and over again. I don't purposely get dehydrated, but it happens enough that it isn't a big deal and I can go many miles with an empty bottle.
Friday shouldn't be that bad, approaching 80 during the race, but it only lasts a couple hours. With an hour earlier start this year, I should be up and over Dugway Pass during the hottest part of the day. It is usually cooler on the other side. Hopefully when I hit Blackrock the sinking sun will be cooler.
Mizuno Wave Elixer 5 - Green Miles: 2.00
Add Comment
Race:
Pony Express Traill 100-mile Endurance Run (100 Miles) 20:53:05, Place overall: 1, Place in age division: 1

The brief version for now:

5th annual race, we had a much more competitve field this year. The race starts in two waves, slower runners at 5:00 a.m. and the faster group at 7:00 a.m. The race is run on dirt roads and is a very fast course with less than 3,000 feet climbing. I am the race director, but again this year I raced.

I started out very fast as usual. I reached mile 16.6 in 2:16, that is 8.2 minute miles, a crazy fast pace to start a 100-mile race. I was in the lead by 17 minutes. I soon started to pass all the early starters from both the 50 and 100-mile races. My lead extended to over three miles, but I became very distracted by race director duties, including greeting all runners I passed and some times slowing to answer questions. I wasted probably a half hour dealing with a safety issue when a runner was ignoring a rule and refusing to respond to direct instructions and warning. He was upsetting several runners. Finally I caught up to this early starter and had to threaten disqualification. It bothered me that he was ruining my own race.

But still I held the lead all the way to the turnaround at mile 58.5. However, I lost the lead at mile 59 when I had to stop. For the past 12 miles the heat (80 degrees) had pounded me. My stomach was in high rebellion and I threw up over and over and over again trying to find something it would accept. Finally at mile 59 I got into my crew car (cars drove along providing support for each runner instead of aid stations along the way). I turned on the air conditioning and rested as I sipped on coke. The first and second place runners passed me as I stopped. Finally after almost 15 minutes of rest, I pushed myself out of the car, feeling much better and started running again. Jun was in fourth place just a hundred yards back or so. When he saw me start running again he commented to his pacer that this would be the last time he saw me. It was. I started running faster than I had since mile 34.

The sun went down and the temperature dropped to 71. At mile 68 I passed the second place runner. I was about two miles behind the first place runner. OK, I was now feeling good and fast, the stomach had recovered and I was able to eat again. I considered, could I regain first place? I didn't really know how far ahead Ed was, but I put together a strategy in my mind. I knew Ed was used to racing pretty flat coursed. Up ahead we and a long nine-mile climb. I had the strength to run uphill and I was sure I could get up that hill faster than Ed. But I knew I had to chase him down without him detecting it. If he did, he would run faster to keep his lead.

So, I figured out a chasing strategy and discussed it with my crew-guy who was driving along. Because a half-moon was out, I would run the entire nine miles without turning on my light so Ed wouldn't see it. (You could see lights for miles across the desert) Also, usually when you catch up with your crew, the crew drives forward a defined amount of miles (in this case 2 miles), so the runner ahead can see the headlights of your crew car moving forward and thus figure out how far behind the runner is. I explained to my crew guy, Josh, that we would use a trick. Josh would not drive ahead until I was a mile ahead of him, and then he would go forward 2 miles. So, Ed would think I was still two miles back from where Josh stopped his car, but in reality I would be back only one mile from that point. Our trick worked. Josh would report that Ed was ten minutes ahead, then eight, and finally four. I would have Josh wait as much as 15 minutes, so it seemed to Ed that I was still 2 miles behind but I was only one-half mile. Josh and I were having great fun with the trick.

Finally I reached Dugway Pass. My friend Carl was at the checkpoint there and he asked, "Do you have a light." I replied, "I'm sneaking up on him" Carl laughed and said he knew what I was doing, he had seen me do similar things before. I looked down below the pass and could finally see Ed's headlamp moving pretty slowly down the steep road. I had told Josh to not go over the pass for 12 minutes. I was going to attack the lead. I blasted down the steep road in the dark, still without my flashlight on. Ed approached his crew car and started to fill his drinking bottle. When I was only about 30 yards away, I turned on my bright light. I really surprised Ed. "Is that you Davy." I replied that it was. All he could say is, "Well the win is all yours now." I passed him by very fast and shortly later Josh started driving over the pass to rejoin me. I flashed my light up to him so he could see that I was now in the lead.

When Josh drove up, as I refilled, I explained that our strategy would now shift. Josh would not drive forward until Ed caught up to him. Josh would then drive forward to me and report how far ahead I was using his odometer. Josh grinned, understanding this new trick. "I'm learning from the master." He said. I laughed, we were having a great time. With each two miles, I extended my lead by a half mile. When I was about a mile and a half ahead, I told Josh that he no longer had to measure the distance. I had "dropped" Ed for good. Now I finally turned on my light and even shone it behind me so he could see my position. I explained to Josh that this was to "demoralize him" making him feel like he could no longer catch me. First place was again mine to keep.

On the stretch of road we were on, in the dark you could see lights over 12 miles ahead. Finally I reached a two-mile lead. My next worry was, where was Jun. I knew that he was smart enough to use similar tactics to sneak up on my. But I soon could see his crew car lights and understood that I was about five miles ahead.

So on and one we went on the long-straight Pony Express road. Friends heading in their car to the finish would stop and report about the runners behind. Ed was struggling, but Jun was moving very well. I knew that if I could finish by 4:00 a.m., I would have the win. So I just kept pushing. I detected that Ed was about 30 minutes behind and Jun way further back. Finally Jun's dad driving to see where Jun was, reported that I was just 1.7 miles from the finish.

I pushed up the last hill and reached the finish at Simpson Springs in 20:53. I won the race again for the second straight year. It is rather embarassing to win my own race, but I wasn't going to hand over the title, someone else would have to earn it. It also was a 100-mile distance PR for me by 14 minutes. Along the way, did my fastest 50K ever and fastest 50-mile ever.

Ed finished at 21:30:00 and Jun came in at 22:46:12. All three of us had broken last year's course record, but I had lowered in by more than two hours. I had hoped to break 20 hours, but the race director distractions and the sickness during the heat prevented that.

For the next eight hours, I greeted finishers and awarded them their belt buckles. I was thrilled that finally a woman had finished the race. The last runner came in at 29:41:24.

The KSL Outdoors show co-host, Russ Smith managed our race headquarters. He and I called into the show. I'll link to a recording later.

Out of the 19 starters, 15 finished. In addition, 19 runners ran the 50-mile race, 14 finished including Maurine, ScottW. Course records were also set in that race.

I went home very satisfied. The race seemed to be a great succcess. The heat pounded everyone, but the finish rate was good and I saw lots of smiles. Thanks to my great race staff of volunteers, seven of them.

Comments(21)
Still feeling a happy glow feeling from the race weekend. Memories of smiles from runners are still in my mind. I think things went very well. I'm feeling relief that we didn't have any signficant problems. Frank Bott got a flat tire, but got out fine.
I enjoyed watching the back of the pack finish Saturday morning. What was very cool is that tourists and scout troops started arriving at Simpson Springs in the late morning. One group had heard the broadcast that morning on KSL. They all were facinated and peppered us with questions. We could point down the road and they could see 100-mile runners approaching the finish, so they hung around a long time. When finishers came in, there were loud cheers and clapping from all these tourists who just couldn't believe what they were witnessing. They started taking pictures of the finishers with their belt buckles, etc.
It was great fun and made me feel very proud to be part of this. I still recall the day I when I left my house, my wife waved, and I ran alone to the north to start a run on the Pony Express Trail. I never thought it would evolve into something like this.
You can listen to the KSL outdoors program here.
My recovery is going very well. Two blisters are healing. The Hokas prevented any foot fatigue, no sore feet! Muscles feel good. Energy low because of the heat. I feel very uncomfortable in the sun still.
My family is in awe of the champion trophy on our kitchen table right now. Thanks jun for pulling that together. If you wouldn't have made it look so nice, I might have let you win. But it was too nice. I kept thinking about it during those last ten miles. I wasn't going to let anyone snag it from me at that point.
Comments(2)
Well, no Boston for me. I was debating about going and didn't decide in time. That is OK, I'll instead do something else and save all the money. I'd like to get my marthon time down more anyway. I did sign up for Ogden again. Boston should probably make the qualification standards tougher.
Well, ready to run again. Soreness and blisters have healed.
Comments(11)
Didn't run this morning. Yesterday I got a flu shot and felt really crummy last night, so with 10 hours of sleep, I feel better again. The body likes lots of sleep for a few days after a 100 anyway.
Looks like Goblin Valley 50K has a good chance of rain this weekend. I probably won't try to get in. It will probably be nice in the morning though because it looks like the forecast if for thunderstorms and those usually happen in the afternoon/evening.
Comments(3)
Still being lazy. Five days without running. Alarm clock went off and I didn't get up. It is fun to be lazy now and then.
Thoughts turning to Across The Years 48-hour run in Arizona on December 29. Some world-class runners always come to this event. It is great fun. Two years ago I did the 24-hour version. This year I'll do the 48. No clue how far I will go, but I'll likely try to do the first 100 in about the same time I did last week and then hang on and see how many more miles I can get. When I finished Pony Express Trail 100, I still felt good to go if I had to.
Looking at the cast of characters in the field, a top 4 finish is probably the best I can hope for.
I'll likely also go do Jim Skaggs' 100K on the Island coming up. Good training for ATY.
Comments(3)
The alarm went off, but I slept in again. Six days without running. When will this madness end!!!! Probably tonight since I plan on running a 50K in the wee hours of the morning between storms.
Good luck to all those running Goblin Valley 50K. Weather should be OK during the race, just a little bit nippy.
Comments(5)
Finally stopped being a slacker and got out and ran. I again ran the 50K Lake Mountain loop. This time I started at about 9:30 p.m. and ran it in the moonlight. Very nice. Two weeks ago I had run it with two weeks rest after a 100-miler and this time I ran it with one-weeks rest. I was interested to see the difference.
I was able to race the first 12.5 miles well, only three minutes slower than my PR two weeks ago, but on the long downhill I started to feel those 100-mile pains, so I slowed down and just enjoyed the rest of the run. For much of the second half I ran with my light off. The full moon was amazing. Even when it was behind thick clouds, there still was a glow bright enough to see. All was quiet except some coyotes who noticed me and yapped and some dogs who had keen eyes and see me come and go.
I was home in bed by 4:00 a.m. Glad I didn't try to go to Goblin Valley, I probably would have struggled to break 5:00. Need another week to fully recover for racing.
| | | | |
| --- | --- | --- | --- |
| Start | miles | PR | today |
| Reformation Ridge | 4.0 | 0:35 | 0:36 |
| Israel Canyon Rd | 7.7 | 1:11 | 1:11 |
| Enoch Pass | 12.5 | 2:04 | 2:07 |
| Redwood Road | 17.5 | 2:47 | 2:56 |
| Soldiers Pass | 21.7 | 3:31 | 3:51 |
| Lake Mt Rd | 24.3 | 3:57 | 4:23 |
| Finish | 30.8 | 4:59 | 5:43 |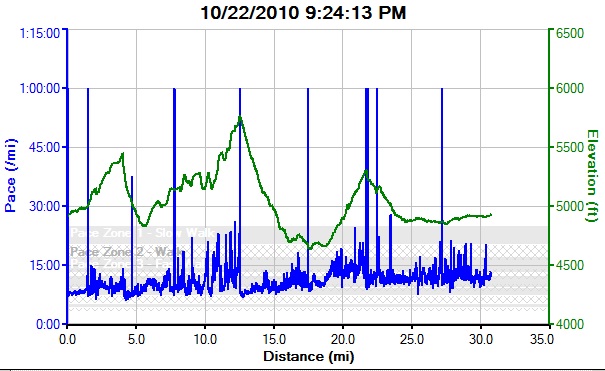 Comments(5)
Still being lazy. Well, time to get to work again. Signed up for the Halloween Half in Provo Canyon on Saturday. I've run down the Sundance road before....wow, crazy steep stuff. Should be a fast tempo run, maybe I can snag the old-guy age-group award. Then next week I'll probably go run Jim's 100k on the island. That should be fun.
Comments(2)
Treadmill. Yuk.
My only problem left over from the 100 (and my 50K) is a painful lump on the tendon where the shoe tongue of the Hokas jam into the foot. It will take awhile for that lump to go away. Shoots pain down a nerve into the foot. I'll probably have to cut that shoe tongue back. Too long and not enough cushion in it.
Starting to think about races for next year. I may skip Bear after seven straight years there to go experience a new race. There are a bunch of good ones in September.
Mizuno Wave Elixer 5 - Green Miles: 7.00
Comments(3)
Treadmill, weights, core. Wimpy workout.
Mizuno Wave Elixer 5 - Green Miles: 4.00
Add Comment
Five quick road miles
Mizuno Wave Elixer 5 - Green Miles: 5.00
Add Comment
Race:
Provo Halloween Half (13.1 Miles) 01:27:59, Place overall: 73, Place in age division: 5

This race is a fun run, and it was fun but had way to many problems to be seriously competivie. But it is a riot to look at all the wild costumes people were running in. Wow. Very creative. The course is very fast.

The problems were a many. But you would expect growing pains as the race went from about 600 last year to about 2,500 this year. They really skimped on buses. Many people had to wait a long time at the start because there were no buses there. Those who did take early buses had to wait two hours at the start, but that was OK, we had fun talking or warming up. The starter began the race when a bus was totally blocking the road 100 yards ahead. Most the mile markers seemed off (one only about 0.8). The course appeared to be short about 2 tenths making it about two minutes or more fast. Perhaps the Garmins had trouble in the canyons. But if so, they all did even those coming in an hour later. The finish bags arrived too late to sort so it took a long time to find bags. And the worst, there were very few buses at the finish, so runners had to walk miles back to their car or wait for hours for buses. (I called my wife to pick us up.) So if you run this race, you need to go at it with just a fun attitude, because it can be fun while you are running because of all the costumes, a great run for the family. It also is a blistering fast course, wow! If you have the downhill speed you can really fly.

The race runs from the Mount Timp trailhead above Sundance and finishes in the Riverwoods.

I went up with my son Kevin who was running his first half. I was worried about the chilly weather at the start and we got there over two hours early, but they had a nice huge warm tent to wait in and look at all the bizarre costumes. After awhile I went out to run up the road. As I was running up, I was confused to see a ton of runners coming down the road in the dark. One of the buses let out runners way up the road for some reason. I guess he missed the turn. The dawn was incredible. I loved the peace away from the crowds climbing up the Alpine Loop road. The light glowed off of Mount Timp. But I was dressed too warm, started to sweat so I returned to the tent and talked with friends and Kevin.

The start was delayed because runners were still arriving because of the lack of buses. After the last bus arrived, the starter didn't give the bus enough time to get out of the way. He fired the gun and away we went. The bus was blocking almost the entire road. Luckly I was in the first group of about 20 runners, so it wasn't a problem.

The first four miles are wicked fast and steep. I think we lost 2,000 feet in only four miles. I forgot to bring my Garmin, so not sure of the mile splits, but if the mile markers can be trusted on the first section they were 6:10, 6:13, 6:20, and 6:44. It was great fun to blast down the road. Before reaching the Provo Canyon highway, my calves started to cramp up, so I slowed a little. I just haven't done enough tempo runs for the past few months, but the steep descent also affected things. I already saw runners stopping because of cramping problems.

Well, the rest of the run just followed the highway and then jumped on the Provo River Parkway at Vivian Park, a route I have run many times. I was surprised that at mile 10, the 1:30 pacers caught up to me. This just didn't seem right. As I got thinking about it, either they were early or the course was going to be short. I hung on and kept them in my sights. They seemed to slow near the finish because they would be arriving more then two minutes too soon.

I pushed as hard as I could and finished in 1:27:59. PR time for a half by over two minutes, but I was still confused, it didn't seem like I went that fast. I watched people finish for the next hour and all the pacers showed up to the finish 2-3 minutes too soon. They were all very confused. I concluded the course was short. Others confirmed it.

I did make a road runner rookie mistake. I didn't tie my shoes tight enough. With the downhill course, my feet slid around and I ended up with huge blisters on the balls of my feet. After I finished, I had wanted to run the course backwards and run Kevin in, but I was in way too much pain after the finish walking on the blisters. I had to treat my feet and then spent a half hour searching the pile for our bags. Kevin showed up at 2:34:34. Well done for his very first half! He got it done. The steep downhill worked his legs pretty hard.

My age group was very competitive this time. I finished in 5th. Many of the best local road runners were there. I recognized several as they passed me. I wished I could keep up but just couldn't.

Despite all the challenges, it was a fun morning, and very nice to get in a fast run.

Mizuno Wave Elixer 5 - Green Miles: 15.00

Comments(16)
Amazed at how beat up I felt from that half marathon. I must be getting old. Sore calves and I slept over 10 hours last night. Weird. Looking at the results, a big field, 73rd overall out of 2443, top 3%. In my age group, I was 5th, but the top 5 all finished within 2:26 of each other, then there was a gap of 5:30 until the next runner. I believe I'm closing the gap with those who usually beat me. If I really cared, I could really train for speed and road foot speed. But, I don't, so it is back to the trails I go.
FYI, when I consider overall results, I always include women who beat me in those results, To me, I'm racing against them too. Good for them. 11 beat me. In 100-milers and 50-milers, I'm finally getting to the point where only about 2-3 beat me.
Comments(5)
| | |
| --- | --- |
| Mizuno Wave Elixer 5 - Green Miles: 58.00 | Hoka Miles: 172.00 |
Debt Reduction Calculator